This information is contributed by Edith Cox




My g-grandfather was John B. Blake, from now Pender Co. He was private in Co. K, NC 3rd. He was wounded at Sharpsburg and Gettysburg and taken captive at Spotsylvania.
John Bryant Blake was born 1 May 1838 New Hanover Co and died in May 12 of 1921 Pender Co.
John B Blake's first wife was Sarah Catherine (Katie) Dunton. His second wife was her sister, Amanda Dunton.
Their children were Mary Catherine, Annie Laura, Idella "Della", Etta and a son, Aydon who died as a very young man and no family of his own, John Wesley Blake and Walter M. Blake (who died at age of 18)
His brothers also served:
Stephen Blake was in Co. K, 3rd NC and died of war wounds in a Richmond, Va hospital; buried in Richmond though we have not been able to find the grave so it must have been unmarked.
Wright Blake served in 4th Calvary; married Margaret Ramsey
Henry Blake (jr) also served in 4th Calvary; married Hattie Easmon
John's sisters were Nancy, Marilla and Martha.

All these folks were from the Shelter Neck area of eastern Pender County.

John B. Blake (First_Last)
Regiment Name 3 North Carolina Infantry.
Side Confederate
Company K
Soldier's Rank_In Private
Soldier's Rank_Out Private
Film Number M230 roll 3


3rd Infantry Regiment State Troops completed its organization at Garysburg, North Carolina, in May, 1861. The men were from Wilmington and the counties of Green, Duplin, Cumberland, Onslow, Bladen, New Hanover, and Beaufort. During July part of the regiment moved to Richmond, Virginia, then was joined by the remaining companies some weeks later. After serving in the Department of Northern Virginia and the Department of North Carolina, it was attached to General Ripley's, Colston's, Steuart's, and Cox's Brigade. The 3rd fought on many battlefields of the army from the Seven Days' Battles to Cold Harbor, marched with Early to the Shenandoah Valley, and saw action around Appomattox. It reported 46 casualties at Beaver Dam Creek , 80 at Malvern Hill, 253 at Sharpsburg, 3 at Fredericksburg, and 179 at Chancellorsville. The unit lost 4 killed and 10 wounded at Second Winchester, forty percent of the 548 engaged at Gettysburg , and 7 killed and 65 wounded during the Mine Run Campaign. It surrendered with 4 officers and 53 men in April, 1865. The field officers were Colonels William L. DeRosset, Gaston Meares, and Stephen D. Thruston; Lieutenant Colonels Robert H. Cowan, William M. Parsley, and Edward Savage; and Major William T. Ennett.




John B. Blake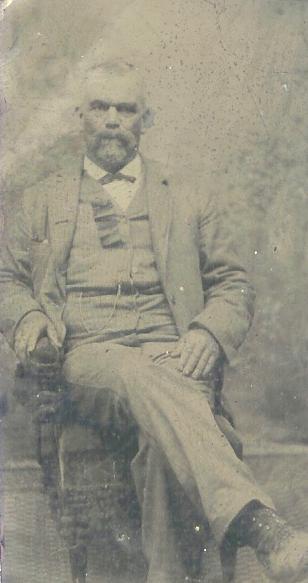 3rd Infantry Company K reunion John B. Blake is on back row, 7th from right.
This photo was taken in the early 1900's.
Back to North Carolina Veterans of the Civil War
Back to NC in the Civil War Home Page
© 2005-2011 Diane Siniard